Meet the staff
The showroom
180 square metres of showroom space with most of the range of new Kawasakis, as well as up to 60 used bikes.
Brian Neilson
Owner/Director
Looks after aftersales at both outlets, but he's more likely to be planning the next race meeting for one of our sponsored riders. Still spannering away for his sins either prep-ing race machines, servicing the odd H2 or just whatever is needed in the workshops. In his spare time he runs Kirkcaldy Kawasaki.
Ian Crichton
Sales director
Ian has been selling bikes and cars for many years. Chances are you already know him. Think you can't afford your dream bike? Ian will find a way. Experience tells at the end of the day. Never knowingly beaten for any deal.
Allan is committed to two wheels. First bicycles, now motorcycles. And keeping the Web site, Face-cloth, and newsletters up to date keeps him busy when not selling motorcycles. Was in to Italian metal before he joined us, so fits in just nicely with MV Agusta.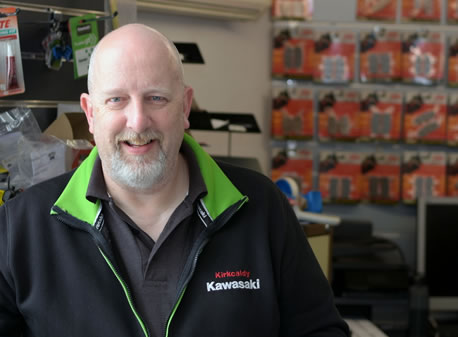 Now established part of the furniture, but don't sit on him please. Doesn't take any holidays, just works away getting you the right parts. Does what he says on the tin (may contain nuts).
Kawasaki through and through. Used to have green hair. Actually rides a bike to work through all seasons so is well qualified to empathise with all motorcyclists. Will help you find the right bike on the right deal every time.
Craig Nuttall
Pdi mechanic
Takes time to do the job right first time. A low maintenance kind of guy. We're still working on ways to wind him up.
Scott Elliott
Storesperson
Knows his way around all things two wheels. Whether powered by internal combustion engines or pedal extremities. Not easily ruffled...
Dave Duncan
Driver and cleaner.
Puts a shine on the day, never mind the bikes he cleans. Never stands still for a moment. Usually quite harmless but don't get him drinking. We're saying nowt about the Christmas party...
Another graduate of the Honda training school. And like colleague Mikey, now saving his pennies for a green boiler suit. Multi-skilled. Gets it right first time.
Robbie Jackson
Storesperson
We had to give Robbie a job as he refused to go away. What a find though. Mad about bikes. Mad about technology. Or just mad?
Ian Stewart
Driver. Cleaner. Cool dude.
Used to look after inmates at one of Her Majesty's luxury hotels. Your bike collected, cleaned and delivered safely...
Join Brian and the rest of the team at Kirkcaldy Kawasaki. Interested? Email Jo Rafferty at [email protected]
SCOTLAND'S PREMIER KAWASAKI DEALERSHIP
Find out why more & more people are are choosing to buy their next motorcycle from Kirkcaldy Kawasaki. Serving Scotland, Fife, Kirkcaldy, Glenrothes, Dundee, Edinburgh, Glasgow, Aberdeen, Stirling, Falkirk and beyond...
Call 01592 - 656910 for more information today